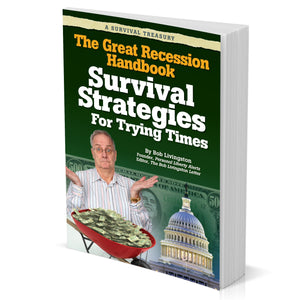 Bob Livingston Letter
The Great Recession Handbook
Regular price
$9.95
Sale price
$99.95
Unit price
per
---
Share this Product
The Great Recession Handbook: Survival Strategies For Trying Times
The U.S. is now facing the greatest financial crisis in our history. Federal and state deficits are skyrocketing … home prices are plummeting … and millions of Americans are without jobs.
The economy is going downhill fast, but there are things you can do to prepare for the financial threats America is now facing. The Great Recession Handbook — Survival for Trying Times is chock-full of proven strategies, techniques and information that can make all the difference in a financial emergency. You'll discover …
How the Fed will deliberately devalue the U.S. dollar, wiping out the life savings of millions …
The two indicators that let you know when the real estate market has "hit bottom" in your neighborhood …
How to enjoy guaranteed income in any economy …
How to get FREE medical care when you need it most …
And much more!
---