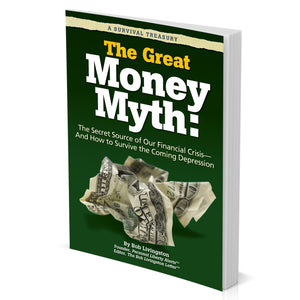 Bob Livingston Letter
The Great Money Myth
Regular price
$39.95
Sale price
$79.95
Unit price
per
---
Share this Product
The Secret Source of Our Financial Crisis — and How to Survive the Coming Depression
The U.S. dollar is destined to collapse. And no, you can't blame the greedy bankers or the money-hungry financial institutions. The demise of the dollar started over 200 years ago — and its ultimate meltdown will endanger your family and your wealth.
You can't weather this storm by hunkering down and doing nothing. This special report reveals the "secret" problem with the dollar — and gives you the simple, practical and potentially life-saving steps you can take NOW to avoid the coming financial devastation. You'll discover…
The REAL REASON why the Federal Reserve exists — and why it has almost nothing to do with the "official" reasons…
Why the price of gold isn't rising faster while the dollar is plummeting… The top 100 "must-have" items you'll need to survive — WHEN the economy fully collapses…
Why our President is really just a puppet — and who is REALLY pulling the strings… And much, MUCH more!
---