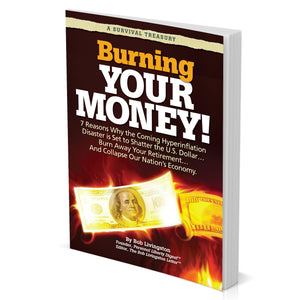 Bob Livingston Letter
Burning Your Money!
Regular price
$9.95
Sale price
$79.95
Unit price
per
---
Share this Product
You're standing at the brink of one of the greatest economic catastrophes our country has ever seen. The federal budget is gushing red ink… the dollar is falling like a lead balloon… and banks are failing in staggering numbers.
Hyperinflation is coming, but there's still time for you to insulate your wealth.
This urgent special report gives you step-by-step information to help you recognize when the collapse is upon us—and to ensure your family's survival and well being. It reveals…
The seven deadly triggers that have—and always will—indicate that hyperinflation is dangerously close…
How to look at the real estate market and almost immediately tell how much time you have…
A simple way to grow your money by as much as 100% annually—while keeping it safer than it's ever been before…
The single biggest mistake most people make when using gold or silver as a way to hedge against hyperinflation (and the RIGHT way to do it!)…
And much, MUCH more!
---