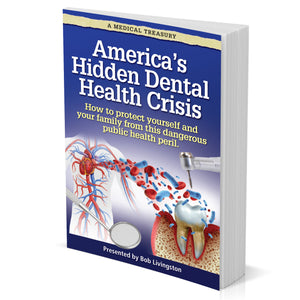 Bob Livingston Letter
America's Hidden Dental Health Crisis
Regular price
$39.95
$0.00
Unit price
per
---
Share this Product
America's Hidden Dental Health Crisis: How to protect yourself and your family from this dangerous public health peril exposes details of the dangers and risks the dental health crisis brings — and gives you specific steps you can take starting right now to get your teeth and mouth in tip-top shape… so you can live an overall healthier life.
Inside this breakthrough guide, you'll discover…
How vulnerable are you to a dental health crisis?
The shocking Covid-oral health connection
Hidden sources of tooth decay in your pantry
The dental hygiene practice nearly 60% of Americans aren't doing
Drink your way to less tooth decay
Clean your teeth while eating
Ancient Indian remedy for a healthy mouth
Powerful, all-natural toothache relief in a bottle
The "Swiss Army Knife" remedy for healthy teeth and gums
Bacteria-killer that keeps away tooth decay
And so much more!
---